How to Stop Currency Counterfeiting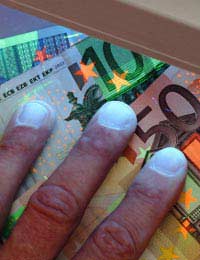 Counterfeit currency is a very big business indeed. During 2009 the Bank of England took 566,000 fake notes out of circulation, worth a total of £11.1 million. Although the Bank says that actual number of counterfeit notes in circulation at any one time is low, it's still a problem that needs to be eliminated.
To try and eradicate the fake notes, or at least remove many of them, the Bank has a four-pronged policy. All four arms taken together can have a strong effect to limit the number of counterfeits around.
Design
The design on banknotes is very complex. It looks fancy but it serves a purpose. Utilising both hand and computer design and printing is a start, since the two together are hard to copy exactly, the Bank adds several other features, including raised print and special watermarks, along with holograms and unique inks. Each ones of these is intended to create an obstacle for counterfeiters, although obviously many overcome them. New, more secure design features are being developed in ongoing efforts to thwart all counterfeiters.
Education
Educating and training those who handle currency is every bit as important as creating secure designs. Showing people how to identify fakes and then removing them from circulation quickly is of paramount importance.
The Bank of England provides information to banks and retailers for their staff, enabling them to pick out fake notes. Their education even extends to schools, and there are areas of the police force that specialise in counterfeit detection, aided by ongoing programmes from the Bank to keep them up to the minute.
The Bank is also happy to educate the public, but it's those who handle a great deal of cash who can be most affected and have a larger vested interested in spotting fake banknotes.
Cash Machines
Many of us receive our cash from ATMs, and the Bank of England has shown concern over counterfeit notes in that area. To try and cut down in it, it's begun a new programme. This lets those who make the ATMs test their units against a library of known counterfeits. Where these tests are conducted on a regular basis they've proved effective, and the Bank will be issuing a list of machines that have passed these tests.
Even those machines that sort notes can be checked, helping to make the supply of banknotes more secure.
Law Enforcement
Much counterfeiting is related to other organised crime, such as distributing firearms and drugs. In 2009, just four counterfeit gangs proved to be responsible for a staggering 88 per cent of all discovered banknotes.
This makes police involvement vital in stopping this crime. The Bank of England works with forces and agencies from all over the United Kingdom and abroad on this. Their role is more forensic, inasmuch as they actually detect the fakes, whilst the police go after those behind the operations. The Serious Organised Crime Agency, or SOCA, is almost invariably involved due to the size of the criminal operations behind the counterfeiting; the days of printing notes in a cellar have long since passed.
You might also like...