Your Rights As A Consumer - How To Make A Complaint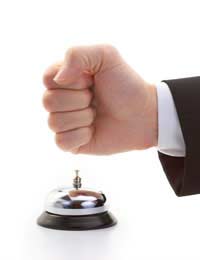 You might think that if you've been the victim of a counterfeit scam, and ended up with fake goods, that it's the end of the story. You've learned your lesson, and you emerge poorer but wiser.
However, consumer law is on your side, and consumer protection agencies will help if you file a complaint against the person who sold the counterfeit goods. How can you get your money back?
Consumer Law And Counterfeit Goods
If you were to buy an item from, say, a market trader or shop that purported to be an item of designer fashion, but which proved to be a counterfeit, then government legislation would back you on a complaint under the Sale of Goods Act 1979. That states, among other things, that the item must fit the description given of it. So if it was sold to you as a Louis Vuitton bag and it's a fake, as a consumer you have the right to complain and have your money refunded or demand a replacement.
If you were to take your complaint to Trading Standards, they would take action against the retailer. Note that under the Act, responsibility for resolving your complaint lies with the seller, not the manufacturer.
Obviously, you should ideally make your complaint as soon as you discover the counterfeit. But the law actually allows you six months in which to return the item. Should the retailer fail to act satisfactorily (although if they've been selling fakes, they'd probably refund your money rather than involve the police), you always have the option of taking them to small claims court. Even if the item was second-hand, if it was sold as the real thing then consumer protection law is on your side to demand a refund or replacement.
Counterfeits And Buying Online
To all intents and purposes, you're covered in exactly the same way for online sales as you would be if you bought in person – the Sales of Goods Act still applies. So if you buy from a website and the item is counterfeit, as a consumer you can demand a refund or replacement. If you buy from a private seller, and the item isn't as described, i.e. it's counterfeit, then the law still protects you – you could return it for a refund. A consumer protection item that's worth noting is that if you pay by credit card, the item is over £100, and there's a problem getting a refund from the seller, you can claim your money back from the card company.
If there's a problem obtaining a refund and the seller is a company in the UK, you can contact the consumer protection agency Consumer Direct.
Buying Counterfeit Items From Abroad
With the Internet such a global medium, people often buy from sellers outside the UK, and indeed outside the EU. That's where it becomes a lot harder to make a complaint if you receive counterfeit goods. You could possibly sue the seller where he lives, but that would be expensive, not to mention time-consuming, probably far more than the item is worth.
You might also like...
Suzy - Your Question:
Yesterday I bought an 18k Omega watch at an auction held in a village in Hampshire, on my return home I was informed that it was fake and a reputable jeweller in my town said he wouldn't give me 35p for it. It wawas advertised in his catalogue as "18k Omega Swiss made wrist watch". Do you think the auctioneer will give me my money back I paid £34 + vat
---
Our Response:
Please see the CAB information
here
which will give you all the advice you need to know regarding your consumer rights when buying at auction.
SpotCounterfeits
- 14-Mar-16 @ 11:20 AM
Yesterday I bought an 18k Omega watch at an auction held in a village in Hampshire,on my return home I was informed that it was fake and a reputable jeweller in my town said he wouldn't give me 35p for it..... It wawas advertised in his catalogue as "18k Omega Swiss made wrist watch".Do you think the auctioneer will give me my money back I paid £34 + vat
Suzy
- 13-Mar-16 @ 8:47 AM