Counterfeit Cigarettes On The Market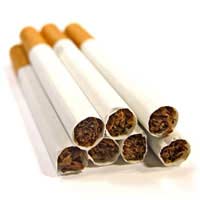 It's an item that's been in the news a number of times over the last few years – the trade in fake cigarettes. It's a huge business, not only in Britain, but all over the world – in fact, in some regions, there are possibly more fakes than real cigarettes. As both smokers and non-smokers alike know, smoking is bad for your health, but fake cigarettes can be even more so. Those discount cigarettes people are offered on the black market often contain things real cigarette manufacturers wouldn't dream of using.
The tobacco is heavily adulterated with other things, meaning that the carton of cigarettes someone bought very cheaply, thinking what a saving they'd made, actually isn't a deal at all, but can actually be harmful to your health.
Where To Find Fake Cigarettes
According to a number of news stories, it's surprising how many places in Britain have fake cigarettes for sale. It could easily be the local shop, the vending machine in a pub, or it could simply be someone who has boxes of them in the boot of the car. Many legitimate small businesses stock them, hoping to make a little extra money.
There are well-organised distribution networks all over the country. If you're a smoker, it's perfectly possible that at some point you've purchased counterfeit cigarettes without even knowing it. The packaging is very similar to the real thing – and who pays attention to the packaging , anyway? – and, of course, the cigarettes look identical. The big difference is what's inside.
What's In Counterfeit Cigarettes?
While fake cigarettes do contain tobacco, there are also several other ingredients in there – it's not uncommon to find sand, plastic and other materials. That's not good, but it's not dangerous in the way other things are. Fake cigarettes have been analysed by laboratories, and it's estimated they contain far greater amounts of carbon monoxide, tar, and nicotine (63%, 75%, and 28%, respectively) than those from legitimate manufacturers, which greatly increases the chances of cancer and other diseases for those who smoke them. Suddenly that "bargain" doesn't seem so good.
How Big Is The Business?
Because the sale of fake cigarettes operates as an underground economy, it's impossible to say exactly how big a business it is. However, it's safe to claim that literally thousands of counterfeit cigarettes arrive in Britain every week. It's a large criminal enterprise, one that's very thoroughly and professional organised, with large distribution centres, and the top men literally making a fortune.
How To Avoid Fake Cigarettes
In truth, it's probably impossible to completely avoid counterfeit cigarettes. A shop you know might stock them, or the vending machine in a pub you use. You might buy them, never even suspecting they're anything but legitimate – and apart from a different taste, probably never be any the wiser.
But it can be quite easy to avoid some of the more obvious sales approaches. If someone offers you a cut-price carton, just say no. If they're not counterfeit, they'll have been stolen, which is just as bad. £10-15 for 200 cigarettes can seem like a very good deal, but once you know what's in them, and where the money goes, it no longer seems so attractive.
Of course, there is another alternative. Giving up smoking means you'll never buy fake cigarettes!
You might also like...
I have been buying what I think is Richmond Blue from a local shop at full market price but they keep going out, are they selling me fakes at full price & is there anything I can do about it? Are the packs supposed to show the tar contents etc? SHOWN In a corner on a side of the pack?
Kay
- 19-Jul-20 @ 12:10 PM
Started using a cigarette case as new packs horrible, noticed varying filter lengths Marlboro red from local shop, supermarket ones filters all same length, taste seemed ok till I noticed the odd filter lengths, fake??
Dr Death
- 5-Jul-19 @ 1:38 AM
If governments around the world didn't keep restricting tobacco, and making prices become insanely high, then there wouldn't be a market for fake cigs.
Oliver
- 24-May-19 @ 2:48 AM
Bought Sterling reds in Tenerife from a shop stating 100% genuine. Sterling logo on cigarette is red; when I buy in UK it's black. Were these counterfeit?
None
- 1-Mar-19 @ 6:07 PM
I have purchase a pack of the fake cigarettes. They taste bad plus I felt kind of dizzy afterwardso. They are all over Milwaukee. If the pack don't say cigarettes please don't buy. They are kilying people.
Tiny
- 14-Nov-16 @ 1:35 AM
I've got two different Newport short packs to and they taste drastically different
Paige
- 13-Nov-16 @ 8:35 PM
I have two boxes of Newport 100 and both are different. Is one fake?
Nikki
- 10-Nov-16 @ 2:29 PM
Lynn - Your Question:
I bought some cheap email cigs an my chest is killing me coughing tight chest struggling to breathe never agsn
---
Our Response:
You may wish to go to your GP for a check-up if they have affected you badly and your chest hasn't recovered.
SpotCounterfeits
- 1-Feb-16 @ 2:09 PM
I boughtsome cheap email cigsan my chest is killing me coughing tight chest struggling to breathe never agsn
Lynn
- 1-Feb-16 @ 4:47 AM
Worth reminding people that fake cigarettes can be deadly – you don't know what goes into them and the people making them really don't care. Most shops will only deal with reputable wholesalers, and it's always better to stick with ones you know are good. In the long run, a bargain can be no bargain at all.
smoker
- 26-Sep-12 @ 8:45 AM
If you buy cigarettes from a shop the chances are that you'll never know if they're counterfeit or not. Bear in mind, though, that the big supermarket chains will only deal with reputable wholesalers, so you're safe there. Even most small corner shops buy from legitimate sources, although there will sometimes be a few who can't resist a bargain and the chance of some extra profit. But never buy cigarettes from someone you met in the pub - that's just asking for trouble.
Rob
- 11-Jun-12 @ 10:21 AM