Penalties Facing the Counterfeit Criminal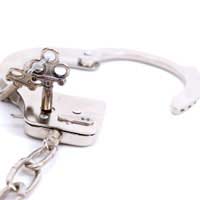 Counterfeiting is a crime, but all too often we don't think of it in the same way as, say, bank robbery or even embezzlement. After all, who's really hurt – just large corporations who can afford it. People buy what they think is the real thing at a bargain price, don't they?
But there's a lot more to it than that. The manufacturers and designers lose sales, yes, but they also lose their reputation when goods fall apart or don't work as they're supposed to. It's not simply counterfeiting goods, it's also intellectual property theft, stealing the idea and creation of the items or software.
They're not the only victims; those who've been duped into buying something they thought was the real thing are also at a loss.
Can Counterfeiters Be Prosecuted?
The prosecution of counterfeiters does go on constantly, whether it's those selling the items, like market traders taken to court by Trading Standards or the police and given fines, often several thousand pounds, or the big operators.
Even eBay isn't immune, although obviously it doesn't directly sell counterfeit goods. But a French court fined the auction site about £15,000 for allowing counterfeit goods to be sold on the site, after a case claimed by French fashion house Hermes. Other designers will likely follow suit from there, meaning eBay could find itself paying out some serious money.
The most aggressive police work will always go after those who counterfeit currency, for very obvious reasons, but the police, as well as other services, will also pursue counterfeiters on all levels, and prosecute where enough evidence can be found to bring them to court. The penalties and punishments imposed could range from hefty fines and confiscation of equipment and goods to prison sentences.
The Reality Of Prosecutions
The reality is that very, very few people behind large counterfeiting operations will ever go to prison, though. Those transporting items, especially into Europe where customs are very active, are often stopped and arrested, and many will go to prison or receive other punishments.
But those at the top of the food chain are usually in Asia, with some in Eastern Europe, where laws are more lax, and a little power and influence can go a long way. That means they can escape prosecution, prison and other penalties that might be imposed.
That's not to say police and other Western authorities won't do their best to find them, but the politics and legal situations between countries make it nearly impossible – as the counterfeiters know all too well.
In their case crime does pay – at least counterfeiting does. Until there's a change in treaties between nations, they're likely to remain safe, making millions which is put into other crime enterprises, and which, in some cases, also fund terrorism.
Those lower down the pecking order will find themselves in prison, or subject to hefty penalties, but those at the top will stay scot-free. Counterfeiting is a crime, and it's taken seriously on all levels, but until it's possible to take out the top people and their money, it will continue unabated.
You might also like...