How Big A Business Is Counterfeiting?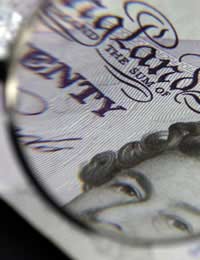 Make no mistake about it, counterfeiting is big. Not just big, but vast, accounting for somewhere between five and seven per cent of the world's trade. Think about that figure for a moment: global trade runs into many, many billions of pounds annually, so for counterfeiting to claim 1/20th of that amount or more means it's huge.
Some countries feel it more than others. In China, for instance, sales of pirated CDs and DVDs tower over legal sales, and it's the same all across Asia. It's a problem vexing not just the manufacturers of the items, but also governments around the world. Where they can make money from the sales of legal goods, the fakes bring in income only for those involved in manufacturing and distribution.
What Is Counterfeited?
In a word, everything. When we think fakes, we tend to think of designer fashion items or the pirated DVDs we see being offered cheaply at car boot sales. But they're just the tip of the iceberg, the visible part, and most is more hidden.
It's possible to buy counterfeits of almost everything, from clothing to shoes to drugs, condoms and even tea bags and cigarettes. Now, while an Armani knock-off isn't going to physically hurt you, although it might fall apart very quickly, other things can.
Who knows what's in that cheap Viagra that's sold online, for instance? There have been incidents of knock-off vodka containing methanol, which has led to drinkers being hospitalised. Even counterfeit Dettol has been checked for dangers. Fake brand cigarettes have been shown to contain far more lead than the real items, giving an increased risk to smokers.
It's a multi-billion pound business, with huge profits to be made. The counterfeiters will fake anything where they can make money, even those name-brand tea bags.
Intellectual Property
For several years the news has been full of talk about intellectual property rights, the piracy of software and video games that's so rampant, whether it's through peer-to-peer networks or the outright piracy and sale of items. Because of the prices, software and video games are major targets. After all, it's hard to resist the lure of the latest popular game for £10 instead of £40. But that negates all the expertise and effort that's gone into designing the game (or the hours of coding behind games and software, as well as the spark of genius that created them in the first place). When people buy the fakes, they're effectively stealing someone's idea, because they'll never see a penny from the sale, and the same is true of all those pirated DVDs and CDs. Additionally, so many don't play well, with grainy images and often poor sound. With software, when you buy a knock off, how do you know it doesn't contain a virus buried deep within that could mean you end up a victim of identity theft?
The Scale
If it's popular, they'll counterfeit it. When it reaches the level of fake brand toilet paper and tea bags, then every level of life has been permeated by counterfeiters. It's crime on a global scale, and very highly organised - they have a sophisticated distribution system that regularly evades Customs personnel, and while a lot of the money makes a very few rich, it also contributes to other crimes, such as drug smuggling.
It might be an underground economy, but it's one that in the long run makes us all poorer.
You might also like...