Recognising Fake Designer Clothing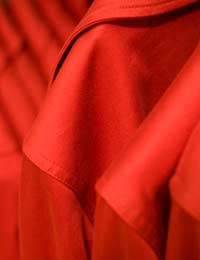 How is it that so many people you see can afford designer clothes? Wherever you go, it seems, someone's flaunting Prada or Marc Jacobs, D&G, Versace, or any one of the multitude of designers who sell their clothing.
But real designer clothing is expensive, generally beyond the range of most people. So how do they do it? The answer, of course, is that the vast majority of them are wearing fakes, counterfeits that sell for much, much less than the real thing. In many cases the wearers know they're dressed in knock offs, and really don't care. But some of them will have been genuinely duped, thinking they've found a bargain on something normally far out of their price range.
So how do you tell the real from the counterfeit? With so many designer labels around it's impossible to go through them all, especially as the fakers keep learning and changing what they do. But there are some guidelines about differences that will stand you in good stead.
Guidelines
The biggest difference, always, is the quality of the material used in the item. It doesn't matter whether it's a short or a dress, designers will use top quality materials; it's a big part of what sets them apart from shops on the High Street.
Before you even think of buying something dubious, examine the real thing. Feel the material, then go to the possible fake. If it seems thinner and cheaper, or even coarser and thicker, you know it's not real.
The stitching on a designer item will always be superior. The cotton will match the fabric, and in most instances you shouldn't even be able to see it - after all, that's what design is all about. Examine the inside of the garment. Where you can see it, the stitching should be tight and even, something you simply won't find on the fakes, where quality is far less important than quantity.
Don't believe that just because it has tags, it must be real. Counterfeiters can fake tags as easily as garments. At one time it stood as a guarantee that the item was real, but that no longer applies.
The bigger the name, the more likely it is to be faked. After all, the counterfeiters want to shift big numbers of units, so there's little point in counterfeiting barely-known designers whose clothes don't sell well.
Use Common Sense
How likely is it that you'd find real Versace or Prada on a market stall? Would real, brand-new designer clothing go for a fraction of the retail price? Of course not! It might be tempting to think you've found a wonderful bargain, but if you think clearly for a moment you'll realise that it's all too good to be true.
If you're buying from a website, make sure there are real contact details (phone number and physical address). If not, that should raise a red flag immediately. On online auction sites (one of the main places to find designer fakes), check the seller's feedback carefully before bidding, and pay with a credit card or PayPal - if the item proves not to be the real thing, you then have recourse to get your money back.
You might also like...
how would I recognise fake Hobbs clothing label? I note that some things are finished with small "s" or large "S". any ideas to the answer
hobbitt
- 6-Jul-12 @ 11:32 AM