Counterfeit Sports Items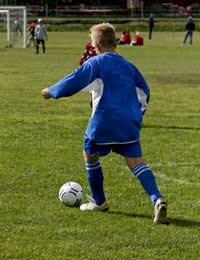 Sport is very big business indeed, in every part of the globe. There's a huge trade in sports items and sports memorabilia, and a lot of it is faked. It's estimated that counterfeit sports items of all sorts account for around $1 billion dollars a year worldwide. That's a lot of money.
Shirts
Replica shirts aren't just a way of supporting a football team, they've also become regular items of fashion clothing for both men and women. The problem is that replica shirts from official club shops are very expensive. Add to that the fact that clubs regularly come out with new shirts, and that can account for a lot of money.
So it's no surprise that there's a very lucrative trade in fake replica shirts, the vast majority of them made in Asia. Internet auction sites are an excellent place for the makers to dispose of their wares. But tourists also snap up many, for themselves and for friends. Plenty of the shirts also find their way across the borders to be sold on market stalls across many countries. Some football clubs have become global brands in themselves.
In the UK, a lot of work by Trading Standards has seen fewer of these items on obvious sale here than in previous years, but they're still readily available to those who know where to look.
All this takes a lot of money away from the clubs, and in a time of soaring debt, especially among the English football clubs, it's money they could greatly use. However, there's nothing new in this particular trade. It's been going on for years, with counterfeits of differing quality. Perhaps the greatest difference is that these days the quality of the counterfeits has become much better, to the point where they can be indistinguishable from the real thing.
Sports Memorabilia
There's a very strong sports memorabilia market, and the counterfeiters can have a field day here, especially with autographs. With old autographs there's generally no way to verify the authenticity, and even with many newer ones it can be difficult. Signatures are very easy to fake, and with popular figures they can be an easy way to make money.
Reputable dealers do belong to organisations and offer provenance on the items they sell, but all too often those who are buying don't care, especially if it's an item they want. There have been a number of conviction s of sports memorabilia dealers who've done a brisk trade in fake autographs.
Sports Gear
Running shoes and all kinds of athletic clothing sell as well as designer gear, so it's natural that people would counterfeit them. The big difference, apart from the price, is the quality of the merchandise, which is shoddy at best, and liable to fall apart very quickly.
The market for trainers, in particular, which has extended far beyond just sports, means that they're a prime target for counterfeiters. New models are constantly appearing, and it's easy to fake the look of designer trainers, although no attempt is made to replicate the quality. It's reached the point where there are a number of unofficial sites now solely dedicated to distinguishing the real things from the fakes. That's a comment on how widespread, and how good, the counterfeiting has become.
Even golf clubs have been counterfeited. A number of manufacturers have issued warnings on their sites, and ways to identify the counterfeits, most of which are sold on Internet auction sites from Asia.
The fact is that sports counterfeiting has become a rival to fashion counterfeiting, which mirrors the rise in popularity of sports. Short of much more stringent law enforcement, which is unlikely to happen, that won't be changing in the near future.
You might also like...