Identifying Fake Sports Clothing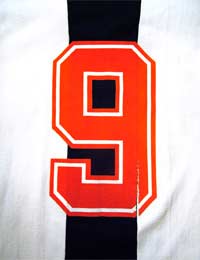 Look around on almost any given day and you'll see a lot of people dressed in sports clothing. It could be a Nike or Adidas shirt, or far more likely, a club or England top, maybe even a jersey from some American team in the NHL or NFL, as they've become more popular here in recent years.
Some will have been legally purchased from club shops or websites, often at very steep prices, but far more will be knock offs, found online or at some less reputable market traders (although, since Trading Standards cracked down they've become a lot harder to find there).
Sometimes the fakes are very good indeed, able to fool a lot of people, and sometimes they look cheap and tatty, little better than a flimsy, inexpensive tee shirt. One immediate giveaway is the price - a new, real football shirt would not be selling for £5-10. You might find an occasional bargain in a club shop, an old design, but that's rare.
But, when you get down to it, how do you tell the real from the fake?
The Warning Signs Of Fakes
Does the shirt have the sponsor's logo? If so, is it the current sponsor? Many fakes skip that part altogether, imaging that many people won't care - and they're often correct. That's probably the single most obvious way to tell a cheap fake. Others, though, will do the job properly, and the shirt will look like the real thing.
The other immediate giveaway is when the fakers screen print the whole shirt, including the club badge. That should be elaborate and colourful, and sewn onto the shirt. No real club shirt would have a screen printed badge.
If it's new, does it have tags? It should, and they should include a sticker with the barcode. If it's a Champion's League shirt, then it should also have that logo on the tag (if you don't know the correct logos, familiarise yourself with them first).
For clubs in the Premiership, those with numbers should have the PL logo, a lion, at the bottom of the numbers, along with the copyright. Generally the numbers will be made of felt, although in some instances they are screen printed. However, any Premier League tags on the sleeves will always be made of felt.
You need to be aware of what shirts are available for what club. With many having three different strips now, that's not always easy. It also leaves the way open for counterfeiters to come up with their own designs. For instance, a few seasons ago there was a black Leeds United shirt for sale through online auctions, and a number of people bought them - indeed, they acquired a kind of cult status. But Leeds had never come out with an official black strip.
American Shirts
Real American hockey and football shirts cost a lot in this country. Also, without the background, it can be very difficult to spot the fakes - finding a proper shirt for a comparison isn't easy.
The shirts should have the appropriate logos (such as NHL, NFL), and the correct holograms. There are two types, one with helmets (the helmets should all be different colours) and another with American footballs and the logos of the AFC and the NFC.
You might also like...