Fake Hip-Hop Clothing and How to Identify it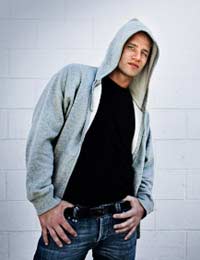 To an older generation, clothing brands like FuBu, Rocawear, BAPE, G Unit and others are complete mysteries. But to a younger generation that needs to wear what's considered cool, they're everyday, and very desirable, names.
Many of the brands, like G Unit or Rocawear, were started by rappers themselves, and this urban fashion is a relatively recent trend, little more than a decade old, but one that's resonated among youth of all colours and from all nations.
It's hip-hop clothing (although that includes shoes and jewellery as well, in most cases), and it's very, very popular. Inevitably, that means people are stepping in to counterfeit it. Often they do it very well, but there are details they miss, or that are too time-consuming to replicate properly.
But how can you tell what's real and what's not?
General Guidelines
Price is always a good indicator. If it's too cheap to be real, then it's very likely a fake. Buy it and you'll get something that looks like the original, but it isn't.
Know your brands. Knowledge is power, or it can at least stop you being ripped off by those selling counterfeit items. You don't just need to know what's available, but the details of appearance, tags, everything you can learn - become an expert.
Where merchandise is sold online, ask yourself whether the real thing would go for such a low price - the chances are it wouldn't, especially if the seller has multiple items and claims they're new. In virtually every case, something is wrong with that. The same applies to market stalls or car boot sales. The chances are you're looking at fakes.
If possible, exam the item before buying. Is the fabric a good quality, is the stitching even and well done? What about the logo, does it look right, and is it in the right place? The fakes will be made of cheap material, and usually the stitching will be slipshod. The labels might look good, but often they'll be positioned wrongly.
BAPE
One of the hottest brands these days is BAPE, or Bathing Ape, especially their camouflage hoodies, which come in many colours, such as reds and pinks, or shades of blue.
There are plenty of fake BAPE hoodies out there for sale. But if you spot any sized larger than XXL, you know immediately that they're fake - that's as high as the company goes. They use proper YKK zips (always check). Tags - there should be two of them, one with the Bathing ape and the other in a camouflage design - should be attached by leather-style string only.
Where there's BAPE on the front of the hoodie, the letters should be centred and even, and the "diamonds" around the letters should actually be on the letters, not outside them.
Real BAPE clothing comes in a plastic ziplock bag that has a white tag indicating the size of the item. If there's no bag, it could well be a fake.
The care of garment tag should be inside the hip area. However, this has often been duplicated by counterfeiters, although they don't always get the font correct - compare with a real BAPE item.
You might also like...
I have a men's rocawear watch that serial number on the back of it is RM 53 50 and has a black band metallic metal is this fake
Fashions change very quickly, and all these names have had their fifteen minutes of fame. Now it's all about the High Street brands or the more upmarket Abercrombie & Fitch. But the same applies – the popular brands will be faked if there's a profit to be made and you need to be on your guard. If it seems too good to be true then it probably is.
Chris
- 10-Oct-12 @ 11:11 AM