Is That Real Designer Jewellery?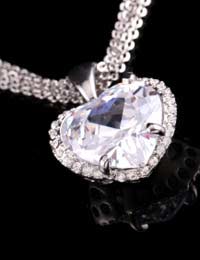 Designer jewellery is notoriously easy to fake. A much harder task is faking it very well; there are usually a few giveaways to people who know what the real thing should really look like.
But that doesn't stop sellers, online, in markets and elsewhere, from offering the fakes. It can be particularly confusing to the amateur when the jewellery comes with the extras you'd expect from a real designer, such as authenticity tags and bags - after all, why would someone go to the trouble of making those, too?
A Few Basics
Designers make their reputations not only for their designs, but also the quality of craftsmanship in their products. They're meant to be beautifully made (it's one major reason they can charge those high prices). Counterfeiters don't have the time or inclination to make beautiful goods - they're interested in quantity, not quality. So, if it looks shoddy, the odds are that it's a fake. Look closely - if the links on a chain don't seem quite right, for instance, reject it. It's a fake.
If the price of an item appears to be too cheap, then it's almost certainly a fake. Designers don't sell at cut-price, they don't need to do that. Ask why anyone would be selling Tiffany or Cartier for £20. Answer: they wouldn't if it was real. If it seems too good to be, then it probably is.
Pick the item up. Real gold and silver is heavy, and the designers make sure they use the real thing. Fakers might mark it as 18 ct or 925 silver, but it's not - at best it's hollow, not solid.
Playboy
Playboy bunnies look to the right - that's invariable. If there's an item that doesn't, then it's a fake. Similarly, the "eye" is set slightly in from the edge of the head, not up against it. Nor should an ear be folded or bent. Also, virtually all the real Playboy necklaces and bracelets have an oval-shaped charm or tag that reads "Playboy Since 1953," and that should be right by the clasp, with the bunny logo in the centre. Failing that, the logo should be stamped on the rear of the pendant.
Tiffany
A lot of the Tiffany sterling silver fakes actually have a platinum rhodium finish on the metal, which looks shinier than real silver - and the majority of Tiffany fakes are of silver items. Often the names of the people who designed the jewellery will be subtly misspelt, so look very carefully at that (and know your Tiffany designers!). Every real Tiffany piece will be stamped, although it might not be easy to find - if you know beforehand where it should be on a specific item, that will help in locating the fakes.
Juicy Couture
Juicy Couture bracelets are being regularly counterfeited, but it's fairly easy to spot the fakes. On the real ones the letter "J" charm by the heart truly looks like a J, unlike the fakes, and the words Lady Juicy on the heart should be very boldly and deeply stamped. One of the best tip-offs, however, is the fact that the real thing comes in a long, rectangular case, not a square one!
You might also like...