Those Fake Watches and How to Spot Them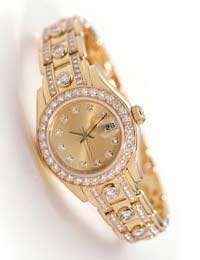 With perfectly good working watches so cheap in shops, you wonder why there's such a market in fake big-name watches. But people do want to have that status, only without having to pay the thousands of pounds that go along with the real thing.
Watches, generally watches for men, are regularly faked, to the point where they're big business. Most of us have heard the stories of the £20 "Rolex" that doesn't work at all, but these days the counterfeiters have become pretty good at what they do, producing models that work very well.
But they're very definitely not the real thing. They might fool the eye at a passing glance, but with a more detailed examination the differences are apparent. It's not only Rolex that's the target of the fakers, but other expensive and exclusive brands like Breitling, Panerai and Cartier.
Rolex
A real Rolex has some heft and weight that the fakes simply can't duplicate because they use cheaper, lighter materials. Nor will real Rolexes (with the exception of the Quartz series) tick. They have a special smooth mechanism that means there will be no audible sound. Only the more recent Prince models are going to have clear case backs, where you can see the workings inside. One easy test is on the crystal itself. Put a little water on it: with a proper Rolex the liquid will bead together. On the fake, which uses glass, it will simply smear. If you're serious about your examination, use a magnifier to show the etched Rolex crown just below the 6. It's tiny, but very clear, and generally not done well by fakers. Genuine case backs will also have a hologram sticker. The fakes might try to duplicate it, but move the watch around on the light and you'll see it's not a real hologram.
Panerai
Many of the fake Panerais have the number E0117/1950 on the back – if you encounter a couple with this, you know you're dealing with fakes. The crystal won't be as good (as with the Rolex, it's glass, not genuine crystal). The strap will have more stitching, too – on the original the straps look – perhaps surprisingly – rougher. But the real test comes in the dark. There the fake simply won't be as bright, especially on the writing that say Luminor.
Breitling
With lots of dials, Breitlings tend to be very much a boys' toy. You'll encounter many fakes, but they're easier than most to distinguish. The inner bezel should blend into the dial, not have the black ring so typical of fakes. You find, too, that the logos on real watches, both the name and the wings, are embossed, not printed, onto the dial. The case back will be engraved, not stamped, and the watch's finish will be brushed. Finally, all those smaller dials will not be raised on a proper Breitling.
Cartier
The simplest way to tell if a supposed Cartier watch is real or fake is to remove the case back. The real thing will have Cartier inscribed on the movement, something the counterfeiters aren't going to duplicate. Real watches will also be quite heavy, certainly as opposed to the lightweight fakes. Additionally, proper Cartiers have scratchproof glass, something the fakes can't boast, and which is a fairly easy test. As a final note, look for the cabochon stone that should be on the winder; if it's not, the watch isn't real.
You might also like...
Hello My son recently went on holiday to Turkey.He has returned with a Timberland watch which cost him £150.Can anyone help regarding whether the watch is authentic.How can I check. Kind regards Julie
teddygirl
- 20-Apr-13 @ 7:09 PM
I got a Cresarrow watch at an estate auction, I can't find out anything about it. on the face it reads Cresarrow, we took the back off and it is a 15 jewel swiss, and has a arrow and half moon symbol. Is this something special.thanks Linda
lynn
- 31-Jul-12 @ 8:13 PM
What it boils down to is that if it seems to good to be true, then it probably is. Here in Yorkshire we say you don't get owt for nowt. Although plenty of these watches can look convincing, just ask yourself, who'd sell a Rolex for that kind of money? Yes, it might be good, but a little more common sense and a little less greed can help psave you.
Yorkie
- 31-May-12 @ 1:32 PM