The Hitler Diaries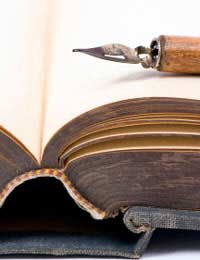 In 1983 a document emerged that astounded people, as the German magazine Stern proclaimed it had obtained diaries written by the late Nazi leader Adolf Hitler. What followed was a tortuous story that proved to be one of the great forgeries of the 20th century, with a reputable publication, as well as some respected experts, fooled and money disappearing. The finger of guilt for the counterfeiting pointed at one man – or possibly two - men.
How The Hitler Diaries Appeared
When Stern announced in 1983 that it had dozens of volumes of diaries purporting to be the work of Adolf Hitler, and showing the Nazi leader in a different, more human light, the world was shocked. Could they be real? Where had they come from, and why had they only just surfaced now?
Supposedly they'd been in a metal strongbox in a plane carrying Hitler's archives that had crashed in April 1945, and had been found by farmers in what became East Germany. They'd been kept secretly, then smuggled into the West.
Stern journalist Gerd Heideman had heard of the diaries and began searching, eventually learning they were in the possession of a man named Konrad Fischer. Eventually they reached a deal, and Heideman gave Stern one volume of the Diaries, followed by others, in return for several million marks.
Were The Diaries Real?
Of course, people were dubious that they were the real thing, since the diaries claimed that Hitler had no knowledge of so many of the atrocities carried out in his name, which went in the face of most learning. But Stern asked experts to check the handwriting in the diaries against documents in the Federal Archives that were in Hitler's handwriting, using photocopies in both instances. They did, and pronounced themselves satisfied that the diaries were authentic. Stern was ready to sell the diaries.
But those interested in buying wanted further tests, and those quickly revealed that the documents were actually forgeries; they'd been written in modern ink on modern paper. In fact, the Archive items against which they'd been compared were also forgeries from the same hand (no wonder they'd seemed real).
The diaries had actually been put together by Kujau, a petty criminal who'd turned to forgery, specialising in Nazi memorabilia and documents, including a counterfeit version of Hitler's autobiography, Mein Kampf. The diaries were his magnum opus.
When word that they were counterfeits leaked out, people first suspected Heideman. But then he told police about Konrad Fischer, which proved to be a fake name for Kujau. On May 14, 1983, Kujau turned himself in, although he claimed he was innocent. He claimed he'd bought the diaries from someone in East Germany, then sold them to Heideman for one million marks (Stern had given Heideman nine million, which he asserted he passed to Kujau).
Eventually, Kujau slipped up and then confessed to being the forger, and Heideman, who'd also been in jail was released – although authorities never did account for the missing money. But he still had to stand trial as police believed he'd assisted in the fraud.
Both Kujau and Heideman were found guilty, although they received light sentences of just four-and-a-half years each, in part because the judge stated that Stern had been negligent in establishing the veracity of the diaries.
The End Of Konrad Kujau
Kujaur was released in 1988, suffering from stomach cancer. Once a free man, he still continued to make a living from forgery, counterfeiting paintings, although he made sure he told customers they were fakes. He even ran to be elected mayor, unsuccessfully, in two German towns. He finally died of cancer in 2000.
You might also like...