Anatasios Arnaouti and the Counterfeit Money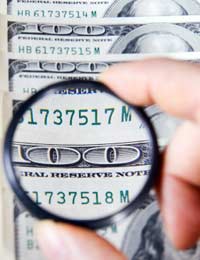 How could a man who had recently been released from jail and was supposedly unemployed afford a house worth £250,000 and drive a £70,000 Mercedes? That was a good question and one that the UK National Crime Squad in Manchester was asking when they put Anastasios Arnaouti, known as Taz, under surveillance in 2002.
They'd begun their investigations at the request of the US Secret Service, the arm of the country's security charged with looking into counterfeit currency. It had noted a sizeable rise in fake paper currency – in dollars - being found in the US and in turn contacted the British National Crime Intelligence Service, which had simultaneously noted a rise in counterfeit sterling notes circulating in the UK.
The Background
Arnaouti was a Greek Cypriot who'd lined in England for many years. A minor crook, he'd spent time in prison for counterfeiting. Not too long after being released, however, he was living the high life.
Although he claimed not to have a job, he lived in an expensive house and drove a very flashy car as well as frequenting some of Manchester's most upmarket casinos and gambling extensively.
That was enough to make the authorities curious. Where was his income? What was he doing to make the kind of money to afford this lifestyle? As someone who'd been in prison for forgery he was already on their radar, and this sudden new wealth had them wondering.
The Setup
Once the NCIS had been informed by the Secret Service, they began connecting the dots and became much more interested in Arnaouti, setting the National Crime Squad on him. Then began the long process of investigation and observation.
What they found was that Arnaouti was heavily involved in the counterfeit currency racket, running a gang that printed and distributed it. They kept Arnaouti and his associates – Philip Raynor, David Harper and several others – under observation for months, establishing who did what and how the fake currency was circulated.
They were also able to gather information, learning that the currency produced was sold cheaply, Arnaouti charging just 80 pence for a fake £10 note and £6 for a US $100 bill.
What they hadn't anticipated was the vast extent of the operation. The group was producing literally millions in fake currency. They had to be shut down, and sooner rather than later. That was done in a raid in December 2002, when police stormed into the print shop the counterfeiters used in the Manchester suburb of Ashton-under-Lyne.
Raynor was there, along with plenty of fake currency, a total of £1.6 million in UK notes and $3.3 in US currency. They also discovered equipment to forge American Express travellers' cheques to the value of $3.6 million.
Fake notes already in circulation were found. When everything was totalled together, authorities were staggered to discover that it was in the region of $6.5 million, making this one of the largest counterfeiting operations in recent history. The irony of all this was that Arnaouti was only paying Raynor, the printer of all the fake notes, £200 per week. When the police raided he'd been waiting for Arnaouti to deliver his wages.
When the case finally came to court, Arnaouti received an eight-year sentence, with Raynor given four years in jail and Harper, the man who distributed everything, put away for six-and-a-half years.
You might also like...