Recgonising and Handling Counterfeit Currency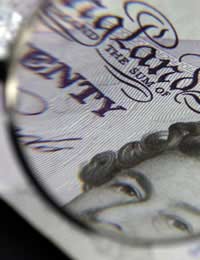 Probably the first thing that springs to mind when the word counterfeiting is mentioned is currency. Not coins – they're not worth the effort – but paper money, especially £10, £20 and £50 notes.
Counterfeiting does go on, tending to be in different areas at different times, as the criminals hit a region, pass off the notes, then move on fairly quickly before they can be caught. The ones who suffer, of course, are the shopkeepers, particularly small shopkeepers, who are on the receiving end of the fake notes. They're usually used to buy small value items, so the crooks receive plenty of real money in their change, and not attract too much attention.
It's a constant battle between those who design and print the notes and the counterfeiters, who have become more and more sophisticated. The notes have become more complex over the years, employing everything from silver threads to holograms in a bid to outfox those who'd copy them.
Many of us will never see a counterfeit note, at least not to our knowledge, although, with plenty in circulation, we might have had one in our wallets or purses at some time. But how would we really know? How do you identify a fake bank note?
How To Identify A Fake
You'll probably have seen sales assistants in shops holding notes up to the light. That's to check the watermark. Every note should have one, and it should be a portrait of the Queen, easily identifiable in the paper. If it's not there, then the note is a fake, as plain and simple as that, which is why checking is such as simple test.
Genuine notes have a very thin strip of silver running vertically through the note. When held up to the light it looks solid, but when the note is pressed flat it looks as if it's been sewn through (which it effectively has, just to make things harder for the counterfeiters).
All notes should have a serial number, which can be printed horizontally or vertically, and the number should only be for that note. If you receive two with the same serial number – then they're counterfeit.
The newer the note – that lovely crisp feel – the more it should have a certain roughness over the printing, and the edges should be sharp. The printing on the note itself should be very well-defined. Of course, as note designs change it can be hard to keep track, so anyone dealing with money regularly needs to be aware of all the changes before they happen.
There are devices you can buy to help spot the fakes, ultraviolet lights and special pens. However much they're touted, though, the police insist they're not completely foolproof and need to be used as part of a total approach – including visual inspection – to check whether a note is real.
What If You Find A Fake
If you accidentally receive a bank note that you suspect is a fake, you need to take it to the police. Trying to spend it is against the law, and if caught you could conceivably end up in court. You probably won't be recompensed for turning the note in, but you will be doing your duty – and staying on the right side of the law!
You might also like...
I work in a shop and we get the occasional fake note through. Many shops use a UV scanner to check notes and that's the best idea – unless trained you can't always tell, and if it's busy we don't really have time to check! Thankfully, it doesn't seem to be too much.
Greta
- 26-Sep-12 @ 8:56 AM
What happens if I unknowingly have been passed a fake £20 and go to spend it. Have I commited a criminal offence? What does the law say if I am really innocent of knowledge.
Business Girl
- 17-Jun-12 @ 4:53 PM
There's always plenty of counterfeit currency in circulation, and not just notes. If you're read the papers recently you'll have seen about counterfeit pound coins doing the rounds, thousands of them. The easy way to identify them is that they don't have the same type of milled edge. There are also, people tell me, plenty of fake tenners going through shops at the moment, too.
Dave
- 31-May-12 @ 1:10 PM