Are Those Trainers Real Or Fake?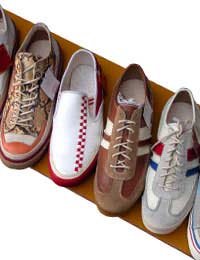 As any parent knows, trainers are a vital item of fashion ware for kids, especially teenagers, and name-brand trainers carry the kind of cool cachet many teens feel they need. That's all well and good, but they don't consider the amount parents have to shell out to help them fit in with the crowd.
The temptation, inevitably, is to try and find them for sale somewhere at an affordable price. There's only one problem with that - those bargains usually turn out to be counterfeits. But how do you tell the real thing from the fakes? As the latest styles keep changing it's almost impossible to keep on top of everything, but there are some guidelines that can help.
Nike
Nike is probably the biggest name in trainers and their Air Max and Air Jordan shoes remain perennially popular - which equates to perennially faked. Perhaps the first thing to check is the Nike trademark "swoosh" logo on the sides. These should be stitched, not glued, on - if glued, you know they're fakes. The leather of Air Max should be smooth, sometimes with tiny air perforations, whereas that's generally not the case with fakes, which usually also have a strong odour of plastic. With genuine trainers you shouldn't be able to push in the air bubble on the heels with your fingers - fakes will offer no resistance. Genuine Nikes will also have the arch supports that are almost invariably missing from copies. With Retro Air Jordans, the tag that's inside each shoe should be glued there. Also, if the seller advises you to buy a size larger than you'd normally wear, beware: the sizing should be perfect in genuine Nikes.
Puma
Puma has become big again, especially with the Ferrari Futurecat shoe, which reflects the popularity of Formula One as a sport. Real items have the Puma cat logo at the centre of the sole, as well as at the top of the heel, where it appears as a moulded design. That logo will also be inside the tongue of the shoe, along with a label stating "Official FI Licensed Product." As a general rule that label will be missing from the fakes, as will the moulded design on the heel. Check the sole, too; the Puma there will often be badly misaligned, and look as if it's an awkward join onto the sole itself. If the colours seem especially unusual, and unlike those seen in shops, there's a very good chance they're fake.
Adidas
Fake Adidas shoes are commonplace, and generally very well done these days. With the shell toe shoes, the numbers on right and left shoes should not match, according to some sources. Adicolors should have Adicolor in white on the sole, while on the box the bar code should only be on the bottom left of the label.
With all brands, inspect the stitching. It should be tight and even - fakes are often slipshod and ragged. Although it can be hard to keep track of all the colours in which different types of trainers are released, checking is a fairly simple procedure. Finally, of course, look at the price. If they're a popular brand and design but being offered for £50, they're probably not the real thing.
You might also like...
@moose mcreedy - Thanks for your advice here. I'm sure our readers will be interested in this good tip.
SpotCounterfeits
- 11-May-15 @ 2:12 PM
Adidas change colours of the trrainers every season so check colours currently made on Ali express or i offer theses are fakes and are the most common fakes currently offered on ebay. If the seller wont send you pics of the serial numbers in the tongue and the stitching on the front and heals chances are those are fakes
moose mcreedy
- 9-May-15 @ 5:31 PM
At Nike we glue our shoes and we also stitch them depending on the trainer. come into a Nike store and have one of our staff check the authenticity.
declan NIke
- 10-Jan-15 @ 10:28 AM
i have ordered a pair of nike air max on line and on arrival i have noticed the swoosh on the side is niether stitched or glued but seems to be painted on! they look and seem ok but i would like to know if any nike air trainers have this ?? please contact me back with information. thankyou
jrob
- 21-Feb-14 @ 9:49 PM
I wish to make a complaint about the quality of my sons lacoste school trainers, they are so bad it is unbelievable, rear of sole have gone, now get wet feet when rains, shoe is falling apart, he has only wore these for 4 weeks!!!, they were brought from JD Sports on the stand where black school trainers were not cheap either, I can not find an address to contact to raise my complaint, please help.
Claire112
- 1-Nov-13 @ 11:13 AM
Thankfully, my son doesn't care about brand names. As long as they're comfortable, he's happy. But I know other parents who actually have to budget to afford trainers for their kids, especially if they have a larger family. It's a nightmare, and I don't think it's ever going to stop, especially with advertising and peer pressure.
Kath
- 26-Sep-12 @ 11:51 AM
Trainers are the bane of life for all parents, as the fashions change so quickly and the prices keep going up. The best thing - and the cheapest - is to try and educate your kids so they don't feel the need to follow fashion, although that can be a hopeless task! Limit the number of new pairs they can have to no more than two a year and insist they look after them. It's not a perfect solution for anyone, but possibly as good as it can get.
Emma
- 11-Jun-12 @ 10:31 AM