The Ultimate Price for Fake Money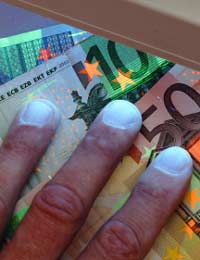 These days we expect those caught counterfeiting, even currency forgers, to receive jail sentences of no more than a few years. But it wasn't always that way. Going back a couple of hundred years and more, the coins we call silver were actually made of that metal, which meant there was money to be made from them, and the sentences for types of counterfeiting reflected the value.
The most hated type of counterfeiter was called a coin clipper. He (or she) would clip small pieces from the edges of silver coins, trying to make the shavings small enough not to be noticed. It was a tedious business, but over time it could be a fairly profitable one. The problem was that, in attacking the coinage, the clippers, or coiners as they were known, were attacking the realm, and so the crime became one of high treason, with all the penalties that involved.
The Penalties
For coin clipping, the penalty was the ultimate price, just as it was for counterfeiting coins. In the case of men this involved being taken and hung, and for women burning at the stake without first being hung.
There was little chance of a royal pardon for this offence (which was the only recourse, as there was no appeals system in place). With executions public, coiners always drew a good crowd. That would be especially true for someone burnt at the stake, a protracted, cruel punishment – and like all punishments, meant to act as a deterrent. It was used specifically for women as it meant they could die fully clothed, with their modesty intact.
Catherine Murphy
Whether Catherine Murphy was truly guilty of coining or not is something we'll never know for certain. She was, however, judged guilty off the offence in London along with eight other people, including her husband.
In most instances what happened to her wouldn't raise an eyebrow in history, but she had the fortune (or misfortune) to be the last woman ever to be burnt at the state. The year after her execution the punishment for women was changed to become the same as men - hanging.
The Execution
Catherine Murphy's execution took place on March 18, 1789. She and those accused with her had been imprisoned at Newgate Gaol. The others, all male, her husband among them, were hung first.
Catherine had to walk past the bodies to her own death. She was led by Sir Benjamin Hammett, the Sheriff of London, to a stake in another part of the gaol yard. There was a small platform in front of the stake, raised one foot from the ground, and she had to stand on this.
She was tied to the stake, and the hangman then piled wood, straw and branches for the fire around her. There was an iron ring on the stake and a rope from this was tied around her neck. At this point the platform was removed from beneath her, leaving her to hang by the neck.
With no quick drop it was essentially death by strangulation, and that meant it took many long minutes for her to die. A full half hour passed before the executioner lit the fire and Catherine's body was burned. She'd been dead before the blaze began, a small act of compassion, and one that had often been used with women in the past.
The next year Hammett was one of those who led attempts in Parliament to stop death by burning. It changed, at least for female coiners, in the spring of 1790.
SPOT COUNTERFEITS IS FOR SALE.
This website is for sale [more info].
You might also like...